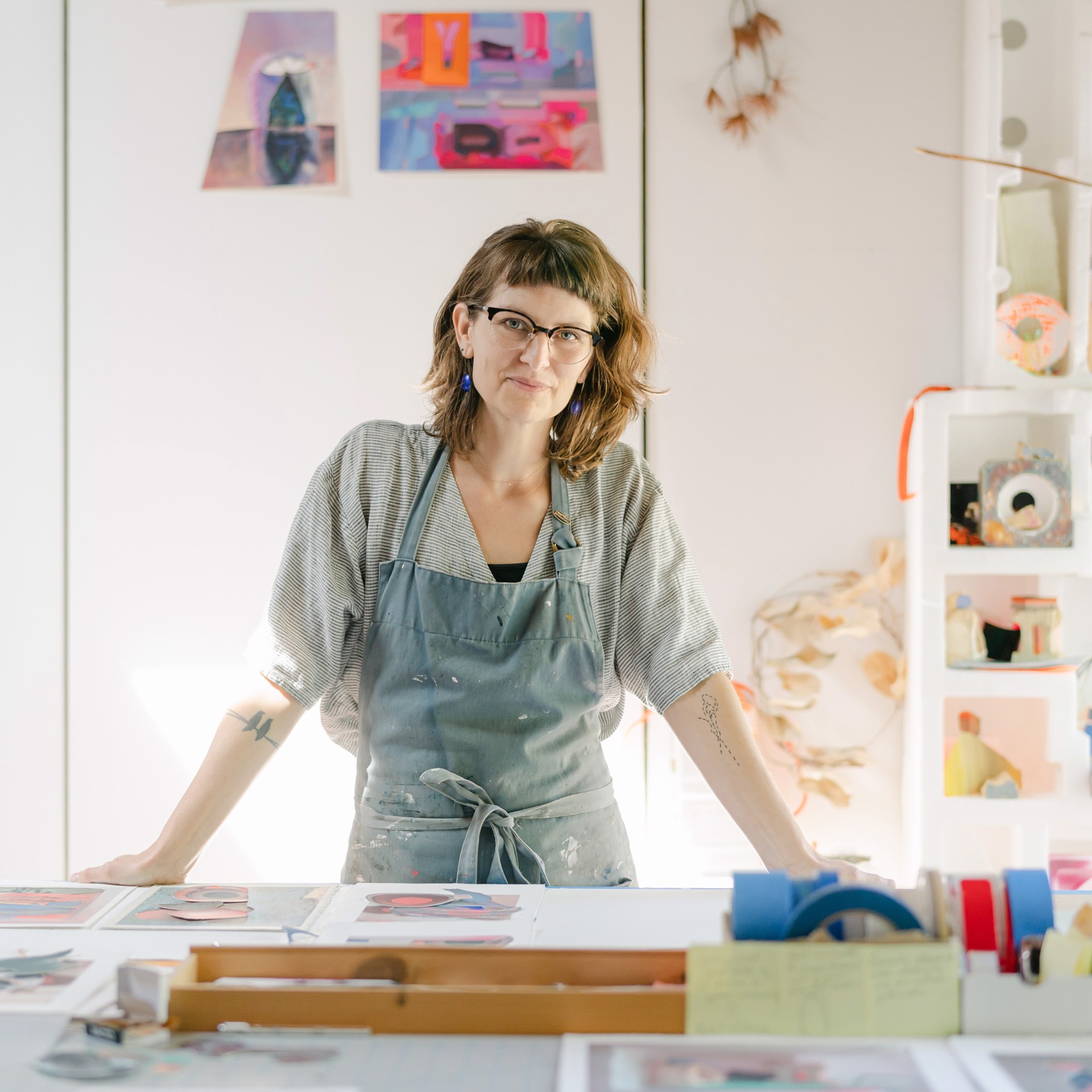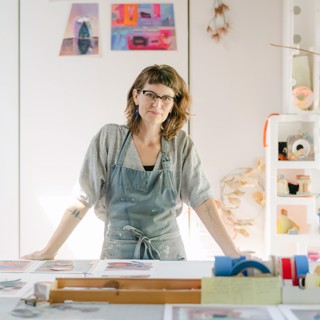 b. 1978, Augusta, GA
Amy Sacksteder is an artist and curator whose work explores personal and collective relationships to landscape and artifact. She works across media, most commonly in painting, collage, drawing, cut paper, installation, and also recently in ceramics. She has participated in solo and group exhibitions nationally and internationally. Recent solo and three person exhibitions include Buckham Gallery (Flint, MI); Divisible Projects (Dayton, OH); Western Illinois University (Macomb, IL); The Detroit Center for Design and Technology (Detroit, MI); and Alma College (Alma, MI). Recent group exhibitions include Contemporary Art Matters Gallery (on Artsy and in NY); Dutoit Gallery (Dayton, OH); Lump (Raleigh, NC); Art Metropole (Toronto, ON); and The Front (New Orleans, LA).
Sacksteder has completed artist residencies at SÍM (Reykjavík, Iceland), Takt (Berlin, Germany), The Hungarian Multicultural Center (Budapest, Hungry) and the Ragdale Foundation (Lake Forest, IL), among others. In 2012 she was awarded a Gallery-as-Studio Residency and solo exhibition at the University of Nevada, Reno. Her work has been featured and reviewed in journals such asThe Offing, New American Paintings and the Chicago Tribune and is included in the curated online registries of The Drawing Center and White Columns. Amy Sacksteder has curated and co-curated the national and international exhibitions Island: 22 Artists on Iceland in 2011 (co- hosted at 'CAVE Gallery, Detroit, MI); Atmosphere: Artists' Responses to Space(s) in 2015; and Vitrine in 2018, all at Eastern Michigan University. In 2021, Sacksteder was invited to join the Long Island City Studio Collective in New York, where she maintains a selected inventory of artwork. She is now represented by IBIS Contemporary Art Gallery in New Orleans.
Sacksteder and her family live in Ypsilanti, Michigan, outside of Detroit. Sacksteder works from her studios in Ypsilanti and Long Island City, and is a professor in the School of Art + Design at Eastern Michigan University.
Statement
My paintings, drawings, collages, cut paper work, and installations explore artifacts as vehicles of human
connectedness to specific places and occurrences. Compelled by interactions with the land and
landscape, I investigate the personal, environmental, and political significances of place. I'm interested in
idiosyncratic, ephemeral contrasts that draw my attention as I move through my daily life—on walks,
runs, while traveling or within and around my home--often capturing these moments on my phone for
later consideration. I'm drawn to human interventions in the natural world such as cairns, surveyor's
markings, and graffitied tags, alongside fleeting moments such as melting ice, light on water, shimmering
shadows. A personal investment in essential materials--such as tarnishing silver leaf, volcanic ash, water
from a glacial lagoon, lily pollen, dirt gleaned from my shoes walking the Women's March in 2017—
infuses and activates the work, such as may occur with the aura of a beloved souvenir.
These artifacts and images become a palette of elements from which to draw while working in the
studio. In my working with them, their context is altered. They're transmuted. Solid objects give way
to plays of light and fractured foliage; high-chroma shapes interweave with vacancies and tactile or
visual textures; physical and pictorial layering explores and exploits real and false shadows; the removal
of solid shapes gives way to portals. The splicing of specific imagery and materials, and formal elements
such as shape, line, and color, result in work that pivots on the cusp between realism and abstraction.
On the whole, my work is an exploration of speculative fictions about my own and humanity's
connection to place and mark upon the landscape; through it—in a time of so much global strife and
uncertainty—I strive to capture the balance between gravity and lightness
Read More