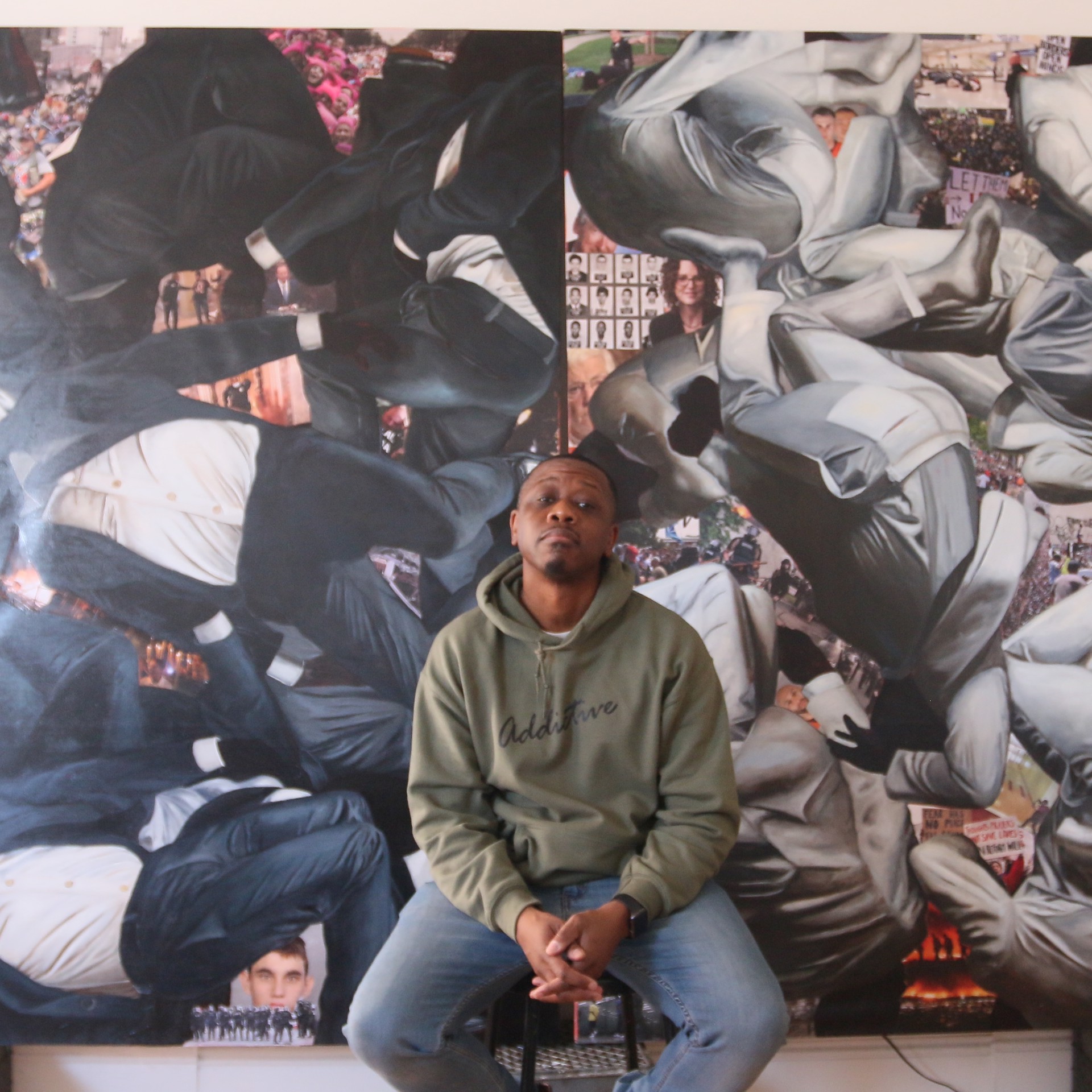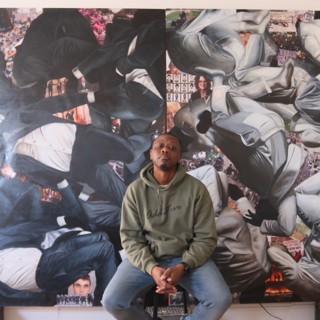 b. Detroit, Michigan
Tylonn J. Sawyer is an American multidisciplinary artist, educator, & curator living and working in Detroit, Michigan. His work centers around themes of identity, both individual & collective, politics, race, history and pop culture. His painting White on White: Stone Mountain was recently purchased by the Detroit Institute of Art, and in December, 2021 an apartment building was honored and named after him, to assist artist from Detroit. In 2019, Sawyer was awarded a Kresge Arts in Detroit fellowship for Visual Arts, and the 2019 Alain Locke Award, presented by the Detroit Institute of Arts. His film "American Gods NA, was named Best Short Film, Detroit Free Press Freep Film Festival 2019.
His drawings and paintings have been included in solo and group exhibitions throughout the United States and abroad including 55th International Venice Biennale, Italy; Texas A & M University, Texas; The Museum of Contemporary Art Detroit, The Charles H. Wright Museum of African American History & The Detroit Institute of Art, Michigan; Heron Arts, San Francisco; Kravets/Wehby Gallery, Rush Arts & The New York Academy of Art, New York, amongst others
Tylonn holds a Master of Fine Arts degree in painting from the New York Academy of Art: Graduate School of Figurative Art and a Bachelor of Fine Arts degree (drawing & painting) from Eastern Michigan University. He is also the recipient of the Peter T. Rippon Travel Award, independent study at the Royal Academy of Art, London England.
Artist Statement short-form:
My work investigates the landscape of American history to present a new paradigm in the chronicle of African American people living in the United States. My practice queries how American history has been shaped by legacies of African American cultural phenomena from the pre-civil war era to the present day. Utilizing media-derived images, art history, and popular culture as source material–I engage my viewers in visual discourse that seeks to heighten one's understanding of race, class, and gender in the United States. I mine symbols of power and oppression from the historical strata of Western art that have been used to create the standards that quantify what it means to be an American. I subvert my formal training in traditional figurative drawing and painting to create a more equitable and celebratory presentation of American History that accounts for the various contributions that Black people have made to the United States. My work suggests a new understanding of American identity, one that encompasses the complexities of the United States oppressive heritage, juxtaposed with a jubilee of Black American life.
Read More